Interior
Croix Vista is a spacious, beautifully furnished and very comfortable two-level villa with views from every room of the house. Parking is located at the upper level with direct access to entrance through the upper great room which contains a granite and mahogany kitchen, dining area with a table for eight, a half bath and a small seating area. Located on either side of the upper great room are large bedroom suites that open to the deck. Exterior coral stone stairs lead down to the lower level where the floor plan is similar to the upper level with a kitchen and dining area, plus a larger living area with a wet bar and home theater system. Like the upper level, two large bedrooms and private baths are located on either side of the lower great room.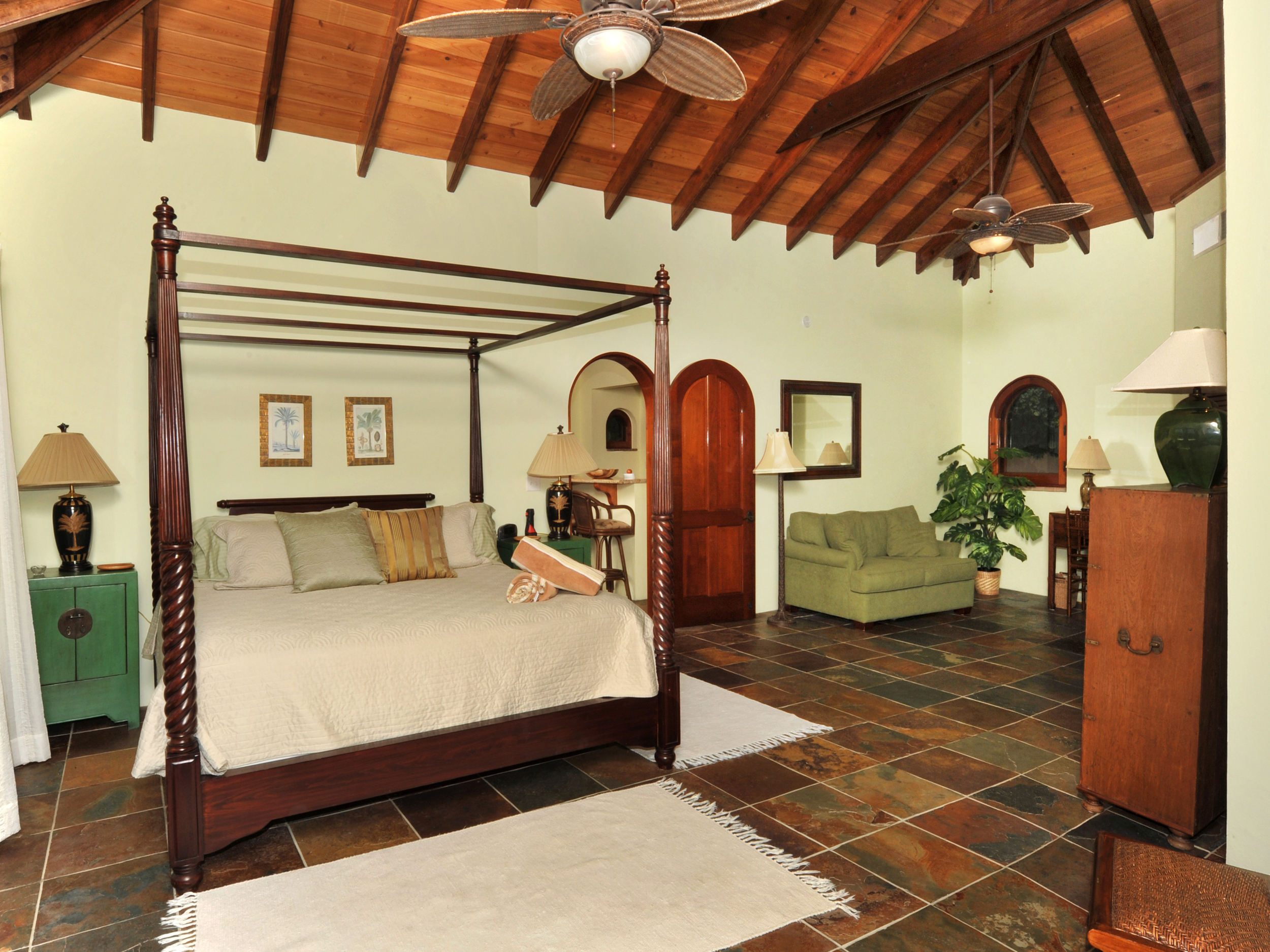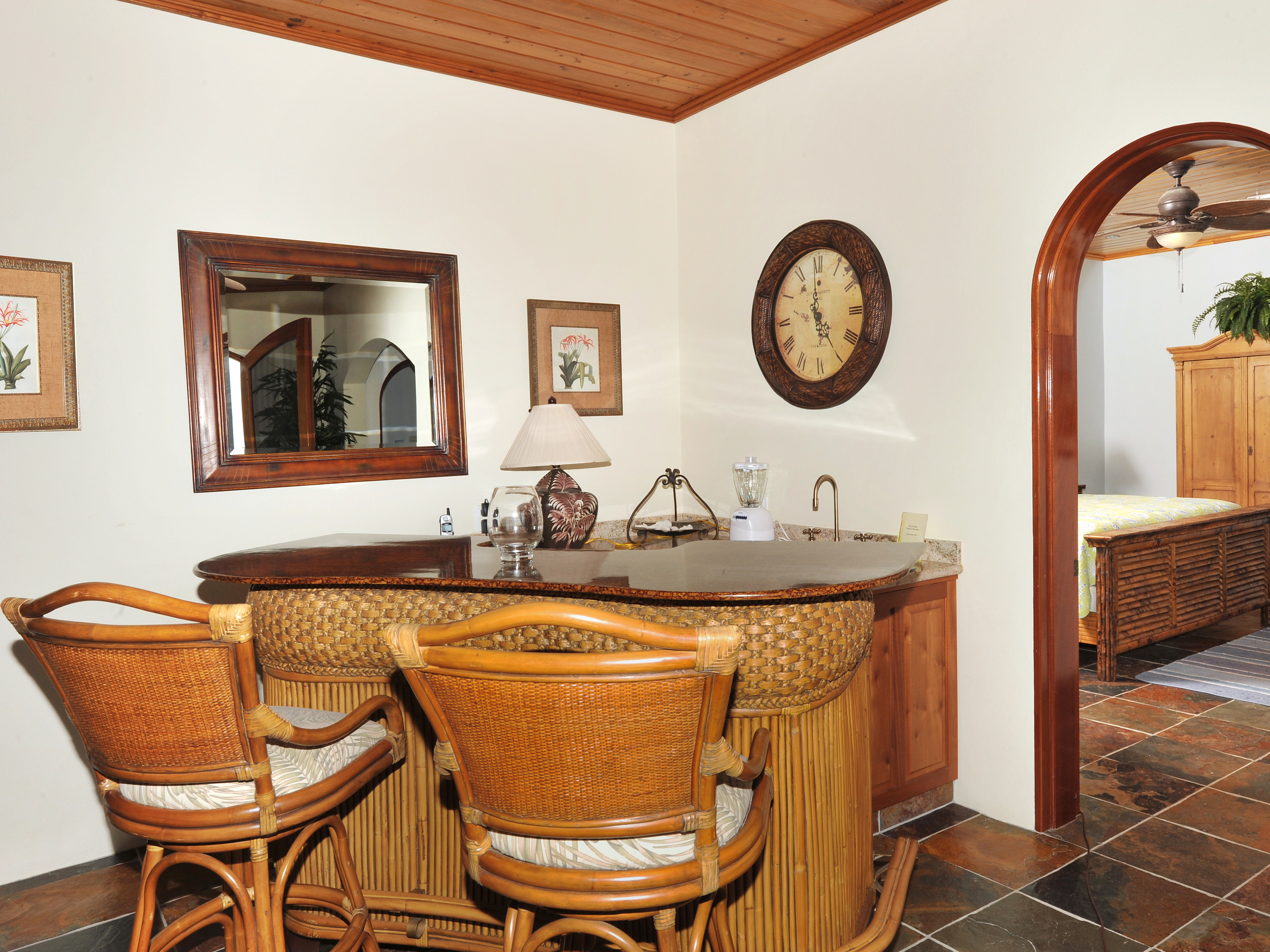 Living + Dining Areas
The 600 sq. ft. lower level great room is the audio-visual and entertainment heart of this villa with a 50' plasma satellite HD-TV, a surround sound system, a wet bar and comfy, cushioned, rattan furniture. There is also a 500 sq. ft. great room on the upper level but most of this area is devoted to the kitchen and dining areas. A stereo/CD plays through 10 speakers in the great rooms and on the decks of both levels.
The primary dining area has a mahogany table and chair set that seats eight on the upper level. There is also a dining table for six-eight on the lower level and also casual dining at smaller tables on both decks.
Kitchens
Both kitchens (there are two) are defined by stainless steel appliances, granite countertops and custom mahogany cabinets. The lower level kitchen has a four-burner gas stove and oven, a full size side-by-side refrigerator and a sink, while the larger upper level kitchen (the primary kitchen) has a 4-burner electric stove and oven, s/s refrigerator, dishwasher, sink and a bar/counter with bar chairs. Both kitchens are well equipped with microwave ovens, coffeemakers, blenders and cookware and kitchenware. Each level also has a gas barbeque grill on the deck and there is a washer/dryer on the lower level.
Bedrooms
The four large king-size, air conditioned bedrooms are models of tasteful bedroom décor. The 550 sq. ft. upper east (left) master bedroom includes a king-sized, four-posted mahogany bed plus a pull out twin sofa bed, an antique chest of drawers and desk, antique armoire, 32" satellite HD-TV, lounge chairs, floor lamps for reading, a walk in closet, a cathedral ceiling, a mahogany and granite bathroom and lovely views from everywhere in the bedroom. The upper level west (right) bedroom (300 sq. ft), and the lower level right bedroom (400 sq. ft.), are similar in comfort and fine décor. The lower left bedroom (250 sq. ft.) is smaller but also tastefully decorated. All the bedrooms are air conditioned with very quiet and effective high wall split units and 32' satellite TV's

All bedrooms provide privacy and three have walk in closets, arched, screened mahogany doors that open to a deck and splendid views. All the bedrooms also have tiled baths and showers with mahogany and granite vanities.